About combining different materials…
Have you ever thought consciously about how many different materials look nice in one object?
As an architect, the same question for me is: How many different materials or very different patterns look balanced on a facade?
You might say you prefer 7 or 2.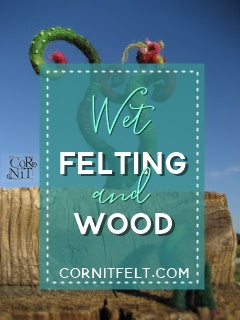 For me, there is the magical number of "at most 3". Not more. I don't know why. It's just a feeling, my taste. (OK, there are cases where I would say an amazing amount of materials, patterns, eclectic style, and craziness can be wonderful. But that's not the usual everyday thing.)
My other question is: What kind of materials? Some that are familiar with each other or very different ones? Both works, both is exciting. So when we talk about wool felt one clear direction is combining it with other natural materials and a very other direction is combining it with upcycled/recycled (!) plastic.

Buying(!) new(!) plastic stuff for combining with felt is indefensible for me. No way. It's like spitting on this fantastic material and on handcraft.

So here I show you a piece of wood combined with felt. Yes, only two materials.

New life…
…for this piece of wood. It's the end of a beam from an old roof. I was holding it in my hands and turning it…watching from here, from there…and I loved those clefts so much.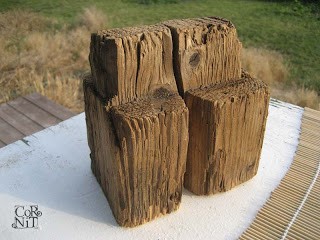 Clefts.
Narrow, broad, deep, flat ones.
New and old ones.
In the heart. In the soul.
Uncovered.
Open for deposits.
Seeds come…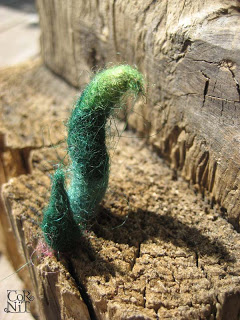 Seeds sprout.
New life.
Impatiently germinating.
Reckless to the old cracks.
Increase of hope…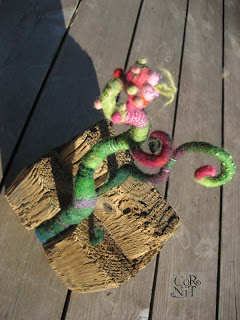 Filling gaps.
Lessening deepness.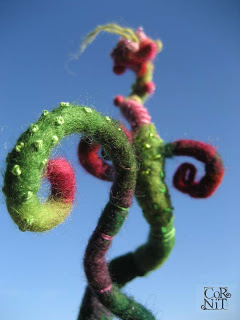 Curious.
Young.
Forgiving.
Rejuvenating.
Laughing out loudly.
Uncurling high above.
New beginnings.
Again.
And again.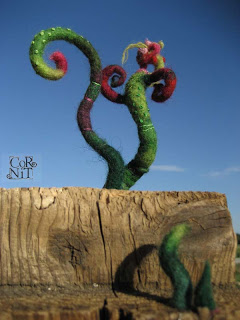 For those who need it.
Sleep well.
And let it grow.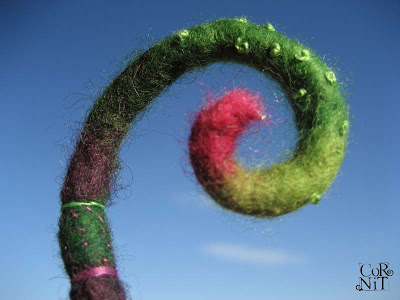 And some work pics:

WHat have you already combined with felt? Please write a comment about it, I'm so curious what comes together. 🙂

Fluffy regards & mothless wool
Corinna