Verrucatis Tentaculata in Latin. Genus of the colorful fuzzies. Here you can see different ones of this species and read some very insider informations from newest thorpe research…
At first glance, you can see that they have warts and tentacles, as well as wonderful colors and skin textures. They shed their skin more often and so, if you are very lucky, you can also find an intact skin from which the creature recently hatched. It is then also always worth looking inside, because not only outside, but also inside their skin is very beautiful.
The warts are also worth longer looks. They are used for breathing. Some tentaclothorpes grow colorful hairs with oxygen nubs in their respiratory warts during spawning season.
Wart hair can also be knobless and even shine golden. The thorpes like it very much when they are tickled with the little finger in the nipples. Of course, this takes a while to get close enough to them. A proven technique for this is the "Prince-Fox-Technique" described in detail by Antoine de Saint-Exupéry.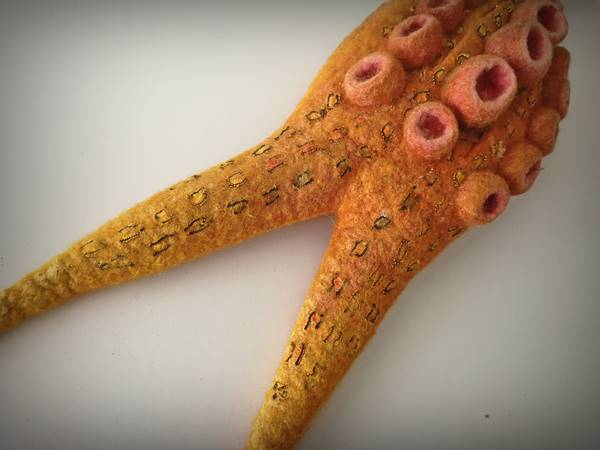 It is impossible to imagine a Verrucatis Tentaculata without the tentacles. The number of tentacles can be quite different. They automatically curl when tickled, but also when they hear laughter. However, this species listens with their beautiful skin.
The Hungarian felt artist Márti Csille from shows you in the Virtual Felting Camp 2023 between 27 March – 5 April 2023, how you can felt Warty Tentaclothorpes.


These are used to attract real thorpes, which can be tamed afterwards.
Tickling a tentacled Warty Tentaclothorpe is an experience of a lifetime, so don't miss out on felting one. 
Click on the horse on the following pic to join the tentaclothorpe felting course  for the EARLY BIRD PRICE 👇👇👇🐣